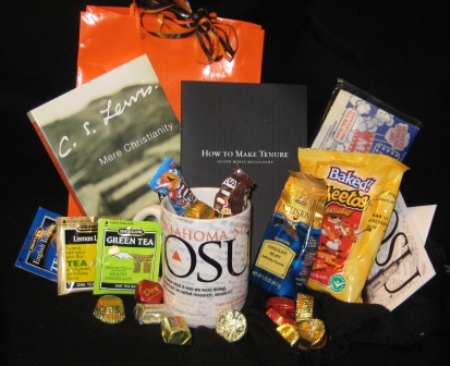 Each year (since 2001), Christian professors at Oklahoma State University personally deliver welcome gifts to their new faculty colleagues.
In addition to a custom coffee mug full of coffee, tea, and chocolate, the gift includes a couple of books: the practical volume How to Make Tenure by retired professor Dr. Rae Mellichamp, and Mere Christianity, written by Oxford and Cambridge professor C.S. Lewis.
The card with the gift from the OSU Fellowship of Christian Faculty and Staff notes, "We desire that you see success in the academy as well as in other areas by achieving an integrated and balanced life."
Faculty Commons staff Gary and Gena Hellman designed these welcome gifts to be conversation starters. "American professors are some of the most influential people in the world," Gary explains. "We hope our gift will begin to break down that false caricature they have developed about Jesus."
And it does. One professor, who had rejected Christianity as unintellectual, read Mere Christianity and it awakened his soul. He eventually became a follower of Jesus.
Another professor moved on after a few years from OSU to a university in another state. When he ran into a professor from OSU's Christian faculty group at a conference, he made a point to tell him that he had read the Mere Christianity he received in his welcome gift. And he now was a Christian himself.
One of our goals at Faculty Commons is that every professor will know another professor who truly follows Jesus. New faculty welcome gifts help us make those introductions.