Over the course of four years, every single student spends around 2,000 hours in a classroom, being taught and shaped by 25-30 professors. Some of these professors are actively seeking to pull their students away from God. Read more about A Student's World.
---
Our goal at Faculty Commons is that every student will know a professor who truly follows Jesus. Over a 30-year career, a professor influences more than 6,000 students. What would happen if those students knew their professor was a Christian? Meet "Professors Who Are Confessors" at Purdue and U of Georgia.
By contrast, many atheist professors attempt to influence their students to abandon their faith. Read The Prof That Could Have Been….
---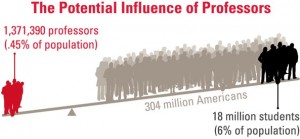 Who are the "experts" offering their opinions on public policy issues each evening on the nightly news? Most of them are professors. Who taught our primary and secondary educators how and what to teach? Through their writing and research, professors have an enormous influence on American culture, affecting younger children in their formative years.